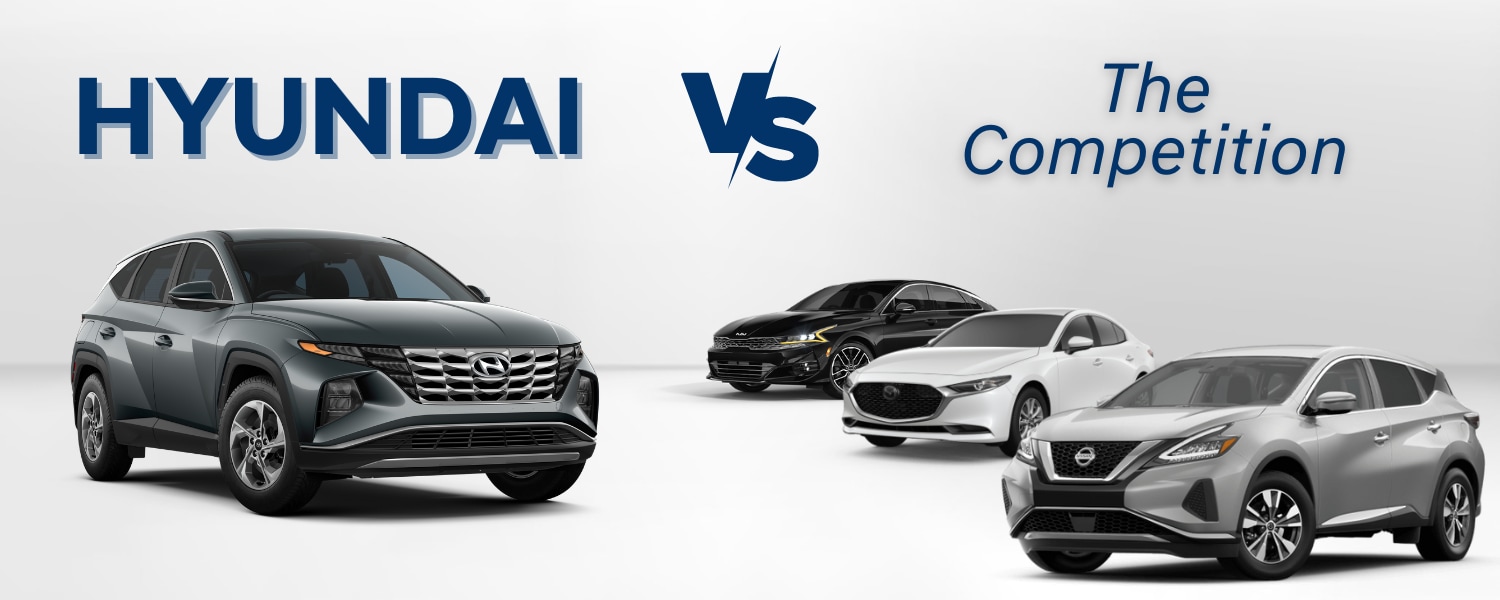 Need Help With Car Buying? Rosen Kenosha's Competitor Comparison Can Help!
At Hyundai Kenosha, we appreciate the time and effort that goes into purchasing a vehicle. As an automotive shopper, you're likely considering several different automakers when searching for the right next vehicle, and sometimes it's difficult to decide which brand will fit your needs.
When it comes to affordable and practical vehicles, you might be checking out brands like Hyundai, Honda, Toyota, Mitsubishi, Nissan, Ford, Subaru, Dodge, and Chevrolet. Although each of these makes has something great to offer, we recommend Hyundai as the best choice.
There aren't Hyundai dealers in Wisconsin that can match our wide inventory of vehicles, outstanding automotive knowledge, and available financing opportunities. We've put together comparison pages of Hyundai vehicles compared to their top competitors. Whether you're looking for Hyundai SUV models, sedans, or everything in between, you'll learn why our models are top-of-the-line. 
See How Our Hyundai Models Stack Up
Below are some compelling reasons why Hyundai is superior to other top competitors. 
●       Efficiency & Affordability. Hyundai's vehicles are affordable, offering many premium features, impressive performance capabilities, and sophisticated high-tech amenities. In addition, our brand offers a wide selection of hybrid and electric options, and even some of our non-hybrid vehicles get up to 40 mpg on the highway! Hyundai's cost less to buy and to refuel.
●       High Powered and Smart Driving Performance. You will enjoy an exciting and intelligent ride when you drive a Hyundai model. Hyundai's Intelligent Drive Mode offers four driver settings and provides optimum stability control and outstanding suspension performance.
●       Sleek and Bold Designs. Thanks to Hyundai's "Fluidic Sculpture" vision, onlookers are jealous of Hyundai models. With nature-inspired profiles, dynamic curved lines, and a true artistic spirit, the lineup of automobiles is simply stunning!
●       America's Best Warranty. Hyundai provides a 10-year/100,000-mile Powertrain Limited Warranty, five years of unlimited 24/7 Roadside Assistance, and a Lifetime Hybrid Battery Warranty. There's a reason why we're labeled as America's Best Warranty!
Learn Why Hyundai the Outshines Our Competitors
Rosen Hyundai's competitor comparison pages will show that our cars have the edge over our competition. By comparing technologies, performance specs, and features, you'll see why Hyundai is the best brand. These pages will also help you find the right vehicle model.
Rosen Kenosha is the go-to source for quality information about Hyundai. Our experts know the industry inside-out. Our friendly automotive experts are available to answer your questions. We've made it easy for you to quickly scan and learn the key differentiators between our models and other in-class vehicles.
Whether it's our performance, fuel efficiency, warranty, or high-tech safety features, there are many reasons why the smartest Midwest drivers choose to shop Hyundai at Rosen Kenosha. 
Test Drive a New Hyundai at Rosen Kenosha
We encourage drivers in the Kenosha and surrounding areas to discover how our 2022 Hyundai models compare to the other in-class competing vehicles on the market. When you see the side-by-side comparisons, it'll quickly become evident that our competition has difficulty keeping up with Hyundai.
If you're searching for a Hyundai for sale near me, look no further than Rosen Kenosha. Come see what we have to offer. Experience all of the technology, safety features, and sleek designs of our Hyundai vehicles. Schedule a test drive to check out the vehicle for yourself. We invite you to swing by our dealership located at 6701 120th Ave Kenosha, WI 53142, or call our sales team at 888-668-9528.